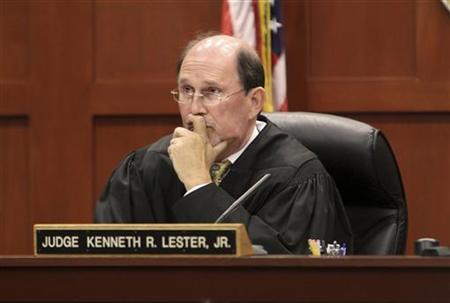 Florida 2014 Judge retention elections
In Florida, judicial retention elections for Supreme Court justices and appellate court judges are held once every six years. This year appellate court judges face retention.

1st District Court of Appeal, - - * Joseph Lewis Jr. - NO
YES * Robert T. Benton - , * Scott Makar , * Tim Osterhaus , * Clay Roberts The 1st DCA covers the counties of Alachua, Baker, Bay, Bradford, Calhoun, Clay, Columbia, Dixie, Duval, Escambia, Franklin, Gadsden, Gilchrist, Gulf, Hamilton, Holmes, Jackson, Jefferson, Lafayette, Leon, Levy, Liberty, Madison, Nassau, Okaloosa, Santa Rosa, Suwannee, Taylor, Union, Wakulla, Walton and Washington.

2nd District Court of Appeal, - * Morris Silberman NO
YES * Chris W. Altenbrand , * Daniel H. Sleet
The 2nd DCA covers Charlotte, Collier, DeSoto, Glades, Hardee, Hendry, Highlands, Hillsborough, Lee, Manatee, Pasco, Pinellas, Polk and Sarasota counties.

3rd District Court of Appeal, * Barbara Lagoa - NO
YES for Thomas Logue, Vance E. Salter The 3rd DCA covers Miami-Dade (circuit 11) and Monroe (circuit 16) counties.
Florida Retention of Judges 4th Court of Appeals
4th District Court of Appeal - * W. Matthew Stevenson NO
YES * Alan O. Forst ; * Mark W. Klingensmith , * Martha C. Warner
The 4th DCA covers the counties of Broward, Indian River, Okeechobee, Palm Beach, St Lucie and Martin.

5th District Court of Appeal, YES
* Wendy W. Berger, * Kerry I. Evander, * Charles Alan Lawson, * Richard B. Orfinger, * William David Palmer, * Thomas D. Sawaya ??, * F. Rand Wallis
The 5th DCA encompasses Brevard, Citrus, Flagler, Hernando, Lake, Marion, Orange, Osceola, Putnam, Seminole, St. Johns, Sumter and Volusia counties

More Florida info provided below.
Conservative Pro Life Congressional Candidates from Florida
See list of pro life candidates for congress for Florida

Jeff Miller 1
Steve Southerland 2
Clifford B. "Cliff" Stearns 3
Deborah Katz Pueschel 4
LeAnne Kolb 5
Alec Pueschel 6
Sandra "Sandy" Adams 7
Bill Posey 8
John "Q" Quinones 9
Daniel Webster 10
Darren Ayres or C.W. Bill Young 13
Evelio "EJ" Otero 14

Joe Arnold or Tom Rooney 17
Allen B. West or Bob Crowder (R) 18
Paige Kreegel 19
Adam Hasner 22
Joseph "Joe" Kaufman 23
Rudolph "Rudy" Moise 24
Mario Diaz-Balart 25
Florida State Senate Candidates
District Don Gaetz 1
Greg Evers 2
John Shaw 3
Aaron Bean or Mike Weinstein 4
Rob Bradley 7
Dorothy L. Hukill 8
Cherron CC Newby 9
David Simmons 10
Alan Hays 11
Fritz Jackson Seide 12
Andy Gardiner 13
William McBride 14
Kelli Stargel 15
Thad Altman 16
John Legg 17
Wilton Simpson 18
Denise Grimsley 21
Jeff Brandes 22
Rachel V. Burgin 24
Melanie Peterson 25
Bill Galvano
Soren Swenson 29
Christopher "Chris"Smithmyer 31
Juan Selaya 33
Mike Lameyer 34
John Daniel Couriel 35
Scott Hopes 39
Conservative Pro Life Candidates Florida 2014 Republican
Incumbent Governor Rick Scott
is being nominally challenged in the primary by conservative activist and perennial candidate Elizabeth Cuevas-Neunder and pharmacist Yinka Abosede Adeshina, and he is a lock to win renomination. Though there were rumblings that someone might challenge him the primary, those rumblings obviously never resulted in a serious challenge, though I am curious as to how a competitive Republican primary would have played out. Cuevas-Neunder seems like a more serious challenger than Adeshina, but in the end, it matters not, because Scott will easily win. Rick Scott is the only Republican hope.

Congress District 3 – Ted Yoho (R)*

Congress District 7 - David Smith (R)

State Senate District 6 - Derek Hankerson

Jamie Grant (R) - Florida House of Representatives 64

Debbie Faulkner (R) - Florida House of Representatives 65

Chris Shepard (R) - Florida House of Representatives 67

Bill Young (R) - Florida House of Representatives 68
FL State Attorney District
Only contested endorsed candidates listed
State Attorney District

Pete Williams 2 Jeff Siegmeister 3 RJ Larizza or Stasia Warren 7 Ed Brosky or Peter Lombardo 12
Jim Appleman or Glenn Hess 14 Dina A. Keever 15 Mark E. Kohl 16 Jim Lewis 17 Phil Archer 18 FL Public Defender District Bruce A. Miller 1 Mathew A. (Matt) Shirk 2 Bo Samargya 5 Ken Rhoden or Blaise Trettis 18

Florida Supreme Court Retention of Judges The Supreme Court race of judges is proving to be especially contentious, as various conservative groups and other individuals have been fighting against the retention of Justices Barbara Pariente, Fred Lewis and Peggy Quince. The organization, Restore Justice 2014, is trying to oust these justices on the grounds of inappropriate judicial activism--pointing to a 2010 healthcare ruling and a 2006 death penalty ruling. In addition, the Southeastern Legal Foundation was arguing a lawsuit that accused the justices' of illegally using court employees to file their election paperwork.

COPY AND FORWARD TO YOUR FRIENDS - WE NEED TO ELECT SOLID CONSERVATIVES
Pro Life Candidates Christian Voter Guide Florida 2014
Expect a strong pro life vote for candidates in the August 14 primary.
Florida House State Legislator Candidates 2014
District Number - Only Contested Endorsed Candidates are listed
State Representative District
Clay Ingram 1 C.V. (Clay) Ford 2 Doug Broxson 3 Matt Gaetz 4 Marty Coley 5 Jimmy Patronis 6
Don Curtis 7 Bradley Maxwell 9 Elizabeth Porter 10 Janet H. Adkins 11 Lake Ray 12
Daniel Davis 15 Kim Kendall 17 Keith Perry 21 Travis Hutson 24 Dave Hood 25

David Santiago or George Trevato 27 Jason Brodeur 28 Chris Dorworth 29 Scott Plakon 30 Jimmie T. Smith 34 Robert Schenck 35 Mike Fasano 36
Richard Corcoran 37 Will Weatherford 38 Neil Combee 39 Seth McKeel 40

John Wood 41 Mike Horner 42 Art Otero 43 Rodney Roger Olivera 45 Bob Brooks 47 Marco Pena or Rene "Coach P" Plasencia 49
Tom Goodson 50 Steve Crisafulli 51 Laureen Trent 53 Randy Johnson 55 Jake Raburn 57 Ross Spano or Joe Wicker 59

Shawn Harrison 63 Larry Ahern 66 Ed Hooper 67 Kathleen Peters 69 Jim Boyd 71 Ray Pilon 72 Doug Holder 74 Ray Rodrigues 76 Dane Eagle 77 Kerry Babb 78 Matt Caldwell 79
James Ryan O'Hara 81 Calvin Turnquest 82 Gayle Harrell 83 Michelle Miller 84 Pat Rooney, Jr. 85 Tami Donnally 86

Bill Hager 89 Sean Michael Casper 90 George Moraitis 93 James Gleason 97 Cara Christine Pavalock 98 Elizabeth Anne "Libby" Eddy 99 Jessica "Jessie" Fortich 102
Douglas "Doug" Andrew Harrison 104 Carlos Trujillo 105 Kathleen Passidomo 106 John Patrick Julien 107 Daphne Campbell 108

Jose Oliva 110 Eddy Gonsalez 111 Amory Bodin 114 Michael Bileca 115 Jose Felix Diaz 116 Frank Artiles 118 Jeanette Nunez 119 Morgan McPherson 120

Florida Conservative Christians endorse for County Commissioner
Joshua Griffin - County Commission 3

Peter Daniel Richter for State Representative, FL District 76

Don Stephenson for School Board, Pasco County, FL

COPY AND FORWARD TO YPUR FRIENDS - WE NEED TO ELECT SOLID CONSERVATIVES
Florida Congressman Comparison Voting Record - Conservative vs. Liberal Ranking
State - District - Name - Party - Score%
FL FL Sen. Marco Rubio R 95%
FL 12 Rep. Dennis Ross R 93%
FL 1 Rep. Jeff Miller R 90%
FL 14 Rep. Connie Mack R 86%
FL 2 Rep. Steve Southerland R 85%
FL 24 Rep. Sandra Adams R 83%
FL 15 Rep. Bill Posey R 83%
FL 6 Rep. Cliff Stearns R 80%

THE LIBERAL MODERATE LINE
_________________________________________________
Any Candidate Below this Line reflects Liberal Rino Voting, and should be looked at for replacement.

FL 16 Rep. Tom Rooney R 73%
FL 5 Rep. Richard Nugent R 71%
FL 22 Rep. Allen West R 70%
FL 7 Rep. John Mica R 67%
FL 9 Rep. Gus Bilirakis R 64%
FL 8 Rep. Daniel Webster R 63%
FL 13 Rep. Vern Buchanan R 59%
FL 10 Rep. C. W. Bill Young R 58%
FL 4 Rep. Ander Crenshaw R 51%
FL 25 Rep. David Rivera R 45%
FL 21 Rep. Mario Diaz-Balart R 44%
FL 18 Rep. Ileana Ros-Lehtinen R 43%
FL 20 Rep. Debbie Wasserman Schultz D 15%
FL 23 Rep. Alcee Hastings D 14%
FL 11 Rep. Kathy Castor D 12%
FL 17 Rep. Frederica Wilson D 12%
FL 3 Rep. Corrine Brown D 11%
FL FL Sen. Bill Nelson D 11%
FL 19 Rep. Ted Deutch D 8%

For those RINOs below the Liberal Moderate Line, consider supporting the Tea party Challenger
Bob Black: Yes, Not incumbent Ander Crenshaw - District 4
http://heritageactionscorecard.com/scorecard/?utm_source=heritageaction&utm_medium=feature-rotator#C001045#member
Darren Ayres Yes, - Not incumbent C.W. Bill Young - District 13
http://heritageactionscorecard.com/scorecard/?utm_source=heritageaction&utm_medium=feature-rotator#Y000031#member
Joe Arnold Yes, Not Tom Rooney District 17
http://heritageactionscorecard.com/scorecard/?utm_source=heritageaction&utm_medium=feature-rotator#R000583#member
Bob Crowder Yes, or incumbent Allen West (R) District 18
http://heritageactionscorecard.com/scorecard/?utm_source=heritageaction&utm_medium=feature-rotator#W000807#member
A true tea party person looks at the voting record, not what a tea party candidate says.

Florida is the 25th most conservative state, voting for Obama in last election but 2.81% more Republican than the national average.
Florida Christian Conservative Candidate Voting Guide
The Florida November election is Tuesday in August 2011. Conservatives do not like Charlie Christ for US Senator, and they greatly prefer Marco Rubio.
Florida Pro Life Endorsements Governor Senate Congress
Christian Candidate Recommendations
Endorsements from Florida Right to Life The Florida Right to Life political action Committee is a single-issue committee affiliated with Florida Right to Life, Inc. After careful review of candidates voting records and questionnaire responses the PAC issues the following endorsements and ratings for the Florida primary election. Please note that districts not listed indicate either no election or no recommendation.
Florida Supreme Court Candidates 2014
Barbara Pariente NO - - Fred Lewis - NO - - Peggy Quince - NO
the above incumbent FL Supermen Court Judges have proven themselves to be TOO LIBERAL.
Recommend a NO vote for all three of them.

U.S. Senate
Marco Rubio – Endorse

U.S. Congress
District 2 – Eddie Hendry, David Scholl, Steve Southerland – all "A" ratings
District 3 – Dean Black – Endorse
District 6 – Cliff Stearns – Endorse
District 8 – Kurt Kelly, Daniel Webster – "A+" ratings
District 12 – Dennis Ross – Endorse
District 13 – Vern Buchanan – Endorse
District 20 – Karen Harrington – Endorse
District 22 – Allen West – Endorse
District 23 – Bernard Sansaricq – Endorse
District 24 – Sandy Adams – Endorse
District 25 – David Rivera – Endorse

Governor
Bill McCollum, Rick Scott – "A" ratings

Attorney General
Jeff Kottcamp Endorse

Christian Voting Guide 2014 Election Conservative Candidates
Use the Christian voting guide for the 2014 election to determine who are the best pro life conservative candidates are.

Religious leaders often overly restrict their speech and actions because they simply don't know what they legally can and cannot say or do. The Alliance Defense Fund has written Pastor Guideline Letter to educate Christian leaders on their broad U.S. constitutional right to speak out. Consider adding a personal note of encouragement to your pastor or priest to not keep silent on the divisive issues facing our culture.



Additional information is provided on several election races, click here for list of good candidates for most states: Christian Voting Guide
Why Christians should vote and be active in political things
1. God has granted us authority. All authority belongs to God, but He has put human beings on the earth as caretakers. What is our task? According to Jesus in Matthew 28:18-20, we are to go out and make disciples of all nations, teaching them to obey God in every area of life. This includes politics. We must disciple people to make godly decisions about government, and promote the efforts of those who are already doing so.

2. We need to stand against evil. St. Augustine said those who are citizens of God's kingdom are best equipped to be citizens of the kingdom of man. The alternative is unthinkable. In the 20th Century, atheistic and secular humanistic leaders gained control of nations all across Europe, Asia and Africa. What was the result? According to historian R. J. Rummel, almost 170 million men, women and children have been brutally murdered by these governments, all in the name of human progress. These facts led historian John Hallowell to note, Only through a return to faith in God, as God revealed Himself to man in Jesus Christ, can modern man and his society find redemption from the tyranny of evil.
Despair never won any battle. Not a single one. So don't despair. It is a useless emotion, and a deliberate trap set by your enemies. Take up the gauntlet and fight on with renewed enthusiasm, because the worm is turning.


Awana - Awana Club International - Awanas


When we see the good that results from applying God's principles, and the horror that results from rejecting them, doesn't it seem cruel and irresponsible to keep Jesus teachings about truth, love and compassion to ourselves? At very least, we should vote to keep OUT of office those who attempt to oppose God's authority.

These links have comprehensive information on the Ten Commandments of God in Exodus 20. The Ten Commandments, Ten Commandments Exodus After the Exodus from Egypt, the Children of Israel were given the Ten Commandments. In Egypt, scholars did the Septuagint translation. Ten Commandments Septuagint and Ten Commandments of God Read The Ten Commandments News
Christian Candidates in Florida
Florida will elect Christian candidates on August 14, 2014 in the Republican Florida primary.

Connie Mack - US Senate
The Conservative who can win. No doubt other candidates are great tea party types, Mike McCalister (R) , Marielena Stuart (R) -, and former Congressman Dave Weldon (R). Connie Mack is rated as the 3rd most conservative congressman Florida out of 27, an impressive record. Since there is no run off in FL, the best chance to beat a liberal is Connie Mack.
FL District Courts of Appeal - Judge Retention Vote
First District
The following is a list of candidates for the 2014 First District Court of Appeal election: Candidate:
Simone Marstiller NO TOO LIBERAL
Stephanie Williams Ray Yes , Ronald V. Swanson Yes , Bradford Thomas Yes
Second District
The following is a list of candidates for the 2014 Second District Court of Appeal election: Candidate
Edward LaRose Yes , Darryl Casanueva Yes , Charles A. Davis Yes , Anthony K. Black Yes
Third District
The following is a list of candidates for the 2014 Third District Court of Appeal election: Candidate
Leslie Rothenberg Yes , Kevin M. Emas Yes , Ivan F. Fernandez Yes, Angel Cortinas Yes
Fourth District
The following is a list of candidates for the 2014 Fourth District Court of Appeal election: Candidate
Carole Taylor NO - TOO LIBERAL
Burton C. C

Campaign Hint and Tips: Target Women Voters

Many political campaigns have a limited budget and are looking for the most cost effective way to get their name and theme to people. Of special interest are methods that leve a lasting positive impression. One very effective method that works very well with women voters are Patriotic and Political Campaign Emery Boards. Emery boards are very useful, many hair studios and salons will pass them out and every time they are used it leaves a positive impression. They are low cost and can even be included in mailings.

Christian Citizens

Christian Citizens - America's Christian Heritage