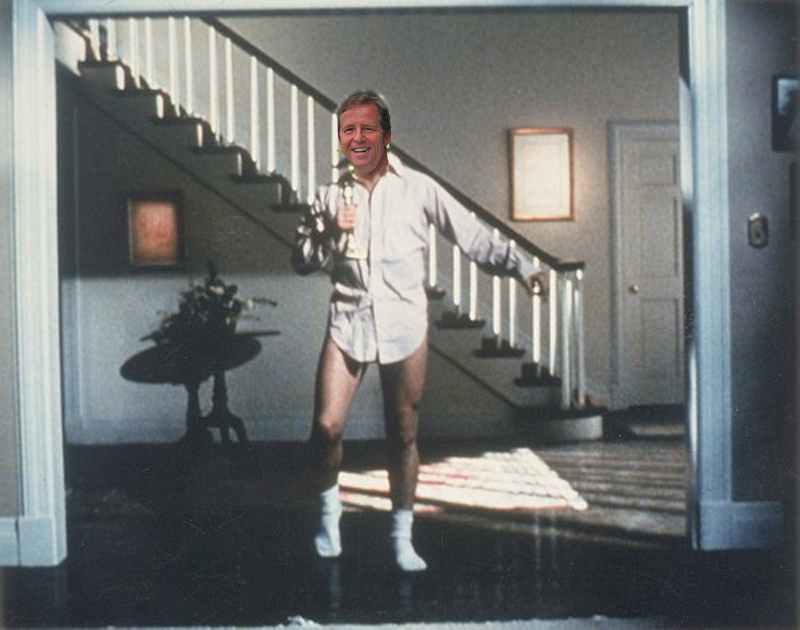 Michael Horton
Michael Horton Westminster Seminary
Power Religion is subtitled The Selling Out of the Evangelical Church. We think it is neoconservative Horton who has sold out. Again, the big names are not targeted. Instead, some of them are the authors of the book's individual chapters! (Others have apparently been deemed untouchable by the book's neo-evangelical publisher, The Moody Bible Institutes (Moody Press.) Called on by Horton to author chapters in Power Religion are ecumenical, neo-evangelical, Catholic-sympathizers Charles Colson and J.I. Packer (both of whom signed the ECT document -- see section below on "The Roman Catholic Connection"); pop-psychologizer R.C. Sproul; psychological integrationists Don Matzat, David Powlison, and Ed Welch; and some lesser known names affiliated with the neo-evangelical, psychologized Trinity International University/Evangelical Free Church of America (Don Carson, Bill Hull, and Tom Nettles).

The book purports to be a critique of Christian activism, the signs and wonders movement, the church growth movement, psychology ("Power Within"), and personality cults. Yet, Dr. Michael Horton claims that we can still learn something from the purveyors of these heresies!

Michael Horton teaches a false sacramental gospel, he has exhibited a fondness for the psychological gospel and those who teach it, and he supports ecumenical efforts with Rome. Horton and the various ACE ministries should be avoided.

Michael Horton's Unusual Theology - Not the traditional mold of Westminster Seminary
Horton has a theology that somehow is a prevision of (combining Luther and Calvin), non-Biblical intellectual humanist thinking that he learned at Oxford, with a sprinkling of Covenant theology. He is very opposed to Dispensational theology. Because of his Reformed and Covenant theology, he sees water baptism as the counterpart of circumcision in the Old Testament. He, therefore, like Calvin, holds to infant baptism as the means for bringing babies into the "Covenant." But, like Luther, he also holds baptism to be the means by which saving grace is communicated. Dr.Michael Horton, follows the liberal thinking of Meridith Kline.

Horton does not speak for all those who hold to Covenant theology (there are various views), but his views correspond to what many believe. As one reads Horton, it appears that he is driven by a presuppositional commitment to his system of Reformed/Covenant theology, rather than by a literal systematic interpretation of the whole counsel of God. Nevertheless, it is easy to agree with Horton as he addresses error within the church, particularly with his earliest works exposing the psychological gospel (i.e., The Agony of Deceit and Made In America), albeit never condemning it.

While agreeing with Horton regarding various issues, there are also many things in his theology that are greatly concerning. These concerns relate to the most basic and critical issues of HOW ONE RECEIVES CHRIST. In fact, Michael Horton clearly teaches ANOTHER gospel! It is a SACRAMENTAL GOSPEL that says Christ is received through the Sacrament of water baptism. This view is better known as BAPTISMAL REGENERATION. This is a most serious matter! (cf. Gal. 1:6-9)
Read more at link: http://www.rapidnet.com/~jbeard/bdm/exposes/Horton/general.htm

Michael Horton the Scorner from the White Horse Inn
Michael S. Horton, and a few of his friends do the radio show called the White Horse Inn. It is amazing that the average professor at Westminster Seminary can be so conservative, while Michal Horton can be so liberal. Horton fits the mold of a scorner, and as Proverbs says, "He delights in his scorning", which is very clear in several of his books. His favourite target is the Religious Right where he goes out of his way to scorn Jerry Falwell, and others. As Time Magazines talks about the New Calvinism, Horton is plowing new ground in theology as he explains the way things are with new theology. Living in the suburbs of Jackson, Mississippi, a city is that is known for white flight and public schools that are a disaster. Yet Dr. Horton exhorts us to keep our kids in public schools, and do not consider the Christian school alternative. In short, Horton fits the role of the northern liberal or the liberal news media, and is clearly not in agreement with the majority of the Christian community from whence he previously lived. He teaches us to go to public schools and is a clear product of the Christ less public schools and of his PHD training at Oxford. His writings on the White Horse Inn reflect high intellect, but little practical application, and a lacking of teaching from the Bible. He quotes liberals like Bishop TuTu and is not known for quoting scripture.

While many are upset with his criticism, they are further upset that Horton does not accurately quote those that he differs with.

Michael Horton
Michael Horton Christless Christianity Book

 

 

Christian Citizens One of America's Founding Principles