Obama Government Health Care - No
America cannot afford the Obama health care plan

Send them a message that we do not want government control of our health care. Government Obama health care means long waiting and rationed care. No personal choice of doctors, get whom ever the government chooses for you, after you have waited for hours. Obama health care means, health care programs that we do not want, like federally funded abortions, and paid for by you. Add forced vaccinations to the list of the Obama change plan. Free health care to 25 million illegal immigrants and the Obama plan also pays for translators that they can receive the service that they want. You will have the privilege of paying for this free health care for the alien illegal immigrants. This will provide incentives for millions more of their relatives to come in to take advantage of this change, free Obama health care plan.

Since 50% of health costs occur the during the last 6 months of life, the government will determine if your grandmother should receive any health care and how much. As in Canada and also in Europe, decisions are made to end the life of grand ma earlier so as to save money.
No Obama Government Health Care Yard Signs
Send the blue dog Democrats and Rino Republicans a message. We do not want any more socialized government run health programs.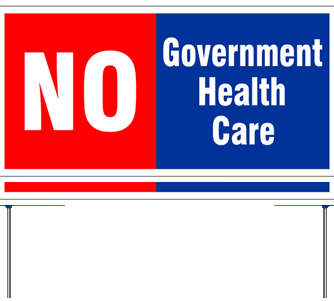 No Government Health Care Yard Signs
Cost for Yard Signs
Shipping Cost
Add 10% Pacific

2

2.50

5.00

12.00

5

2.40

12.00

16.00

10

2.30

23.00

21.00

15

2.20

33.00

27.00

25

2.00

50.00

35.00

50

2.00

100.00

45.00

100

1.90

190.00

75.00

300

1.80

540.00

140.00
These signs are made from durable coroplastic with are about 1/4 inch thick. Size of signs is 12 x 24 inches.
The above prices include wire stands, size of wire stands is 6 inches wide and 24 inches tall. If wire stands are not needed, you may reduce costs of the above by 50 cents each. For those in the Pacific Time Zone, please add an additional 10% for shipping costs.
Shipping costs will pay for shipping anywhere in the lower 48 states. For shipping to Alaska or Hawaii, please contact us.
To place your order call 931-935-2110. Credit card orders are accepted.
Why we should say no to Government Run Health Care
The Democrat health care reform model will instead, limit patient choices, put government between the physician and patient, interfere with patient care decisions and burden Americans with huge long-term cost in the trillions of dollars!

Before we allow one-fifth of our economy to be nationalized, there must be careful consideration and open debate costs, less availability of care and services and the use of quality of life formulas to save money not lives.
Most Americans do not want a Big Brother, distant overseer making life and death decisions about their health. Government run health care may eventually be able to cover most people---but it will be with little care. Bureaucracy by its very nature is not a compassionate body.
Christian Citizens One of America's Founding Principles