Alabama Presidential Primary - March 1, 2016
Election Day: November 8, 2016
State Primary: March 1, 2016
Run-off: April 12, 2016
Alabama Senatorial Candidates 2016
Alabama Congressional Candidates
Endorsements from Christian Citizens
Alabama US Senate - Shadrack McGill or Marcus Bowman
If you notice that a candidate's name is missing, please notify us to add it. Send email to clyde2 @live.com
Alabama Senate Candidates - Announced, Potential, and Rumored Senatorial Candidates
Richard Shelby (R)
Marcus Bowman (R)
John Martin (R)
Jonathan McConnell (R)
Shadrack McGill (R)
Ron Crumpton (D)
Charles Nana (D)
Republican and Democrat Candidates for Alabama Senate Primary Election
AL Candidates for Congress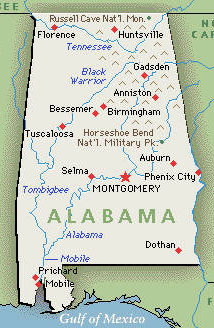 AL Congressional Candidates
District 1:
Bradley Byrne (R)
Dean Young (R)
District 2:
Martha Roby (R)
Becky Gerritson (R) - Tea Party Activist
Bob Rogers (R)
Nathan Mathis (D)
Rob John (Independent)
District 3:
Mike Rogers (R)
Larry DiChiara (R)
Jesse Smith (D)
District 4:
Robert Aderholt (R)
Phil Norris (R)
District 5:
Mo Brooks (R)
Will Boyd (D)
District 6:
Gary Palmer (R)
David Putnam (D)
District 7:
Terri Sewell (D)
History of Alabama. Information that every Alabama Election Candidates for US Senate Should Know:
Alabama's history is characterized by several periods: the Native American period; European exploration from 1542 to 1769; the Spanish colonial period, 1769 to 1821; the Mexican period, 1821 to 1848; and statehood in the United States which continues to the present day.
Native Americans have lived in the area which is now Alabama for 13,000 to 15,000 years. Numerous tribes and bands inhabited the area. Estimates of the Native American population during the pre-European period range from 100,000 to 700,000, with a median estimate of around 300,000.
Heated Republican primary emerges in Alabama Senate District 11
June 12, 2013
MONTGOMERY, Alabama: Representative Jim McClendon (R) kicked off his campaign to win a seat in the Alabama State Senate in 2016. McClendon is running for the Republican nomination in District 11, which is currently represented by Senator Jerry Fielding (R). The candidates have already sparred over jobs and redistricting since McClendon's announcement on June 4. The race will culminate in a primary on June 4, 2016.
McClendon was first elected to the Alabama House of Representatives in 2002 and currently serves on the House Health Committee. He has not faced any opposition during re-election bids in 2006 and 2010. Jerry Fielding joined the Alabama State Senate in 2010 as a Democrat but switched to the Republican Party in October 2012. Fielding's party change was spurred by his policy differences with the Democratic Party on a national level.
Both candidates have stated their commitment to improving the district's economy if elected in November 2016. "Job creation, employment, paychecks, that's Alabama's priority," noted McClendon. Fielding believes his re-election campaign will be "continuous of the last campaign, and that is creation of jobs to put people back to work."
The relationship between McClendon and Fielding is already tense due to questions about McClendon's role on the Alabama Redistricting Commission. Fielding has implied that McClendon used his role on the commission to shift favorable counties into District 11 with an eye toward a 2016 bid. "He and Senator (Gerald) Dial chaired the reapportionment, the result of which is a district that makes it more conducive for him to run for the Senate seat," argued Fielding on the day of McClendon's campaign announcement.During the redistricting process, McClendon noted that the addition of new counties to District 11 was designed to rectify representation problems for residents of St. Clair County. ""Can anybody tell me the last time we had a Senator that lived in St. Clair County? I don't think we've ever had one. We've not had a Senator from St. Clair County in my lifetime – I know that," said McClendon in July 2012.
Alabama Candidates for Congress