New York Senatorial Candidates 2014
State Primary is on June 24, 2014

New York Senator Candidates
New York Senate Race for Election 2014
If you notice that a candidate's name is missing, please notify us to add it. Send email to clyde2 @live.com

New York Senator

Chuck Schumer (D)


New York Candidates for Congress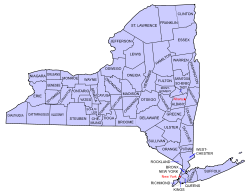 New York Congressional Candidates
District 1:
Tim Bishop (D/IP/WF)
Lee Zeldin (R/C)
Jason Strom (G)
District 2:
Pete King (R/C/IP/TR)
Pat Maher (D) 
Will Stevenson (G)
District 3:
Steve Israel (D/IP/WF)
Grant Lally (R/C/libertarian/TR) 
Anthony Tolda (Sovereignty)
District 4:
Kathleen Rice (D/WF)
Bruce Blakeman (R/C/IP/TR) 
District 5:
Gregory Meeks (D)
Joe Marthone (Independent)
Allen Steinhardt (Independent)
District 6:
Grace Meng (D/WF)
District 7:
Nydia Velazquez (D/WF)
Jose Luis Fernandez (R) 
Allan Romaguera (C)
District 8:
Hakeem Jeffries (D/WF)
Alan Bellone (C)
District 9:
Yvette Clarke (D/WF)
Daniel Cavanagh (C)
District 10:
Jerrold Nadler (D/WF)
Ross Brady (C)
District 11:
Michael Grimm (R/C/IP)
Domenic Recchia (D/WF)
Hank Bardel (G) 
Richard Bell (libertarian) - Tea Party Activist
District 12:
Carolyn Maloney (D/WF)
Nick Di Iorio (R/C/IP) 
District 13:
Charlie Rangel (D)
Daniel Vila (G)
Kenneth Schaeffer (WF)
District 14:
Joe Crowley (D/WF)
Elizabeth Perri (C)
District 15:
Jose Serrano (D/WF)
Eduardo Ramirez (C)
Bill Edstrom (G) 
District 16:
Eliot Engel (D/WF)
District 17:
Nita Lowey (D/IP/WF)
Chris Day (R/C/SCC) 
District 18:
Sean Patrick Maloney (D/WF)
Nan Hayworth (R/C/IP)
Scott Smith (Independent)
District 19:
Chris Gibson (R/C/IP)
Sean Eldridge (D/WF)
District 20:
Paul Tonko (D/IP/WF)
Jim Fischer (R/C) 
District 21:
Aaron Woolf (D/WF) 
Elise Stefanik (R/C)
Matt Funiciello (G)
Matt Doheny (IP)
District 22:
Richard Hanna (R/IP)
Claudia Tenney (C)
District 23:
Tom Reed (R/C/IP)
Martha Robertson (D/WF)
District 24:
Dan Maffei (D/WF)
John Katko (R/C/IP) 
District 25:
Louise Slaughter (D/WF)
Mark Assini (R/C)
District 26:
Brian Higgins (D/WF)
Kathy Weppner (R/C) 
District 27:
Chris Collins (R/C/IP)
Jim O'Donnell (D/WF) 
Defeating Incumbent Kirsten Gillibrand is Essential to Conservative New York Voters
New York Election Candidates 2014 - Christian Voter Guide
Defeating incumbent Kirsten Gillibrand is essential for New York Conservatives
March 20, 2014: New York's Conservative Party nominated a strong social and fiscal conservative, Wendy Long, as its Senate candidate on Monday -- handing Long's Republican Party bid a significant boost but also threatening to divide Republican voters.
The endorsement from the small but influential party was a coveted prize sought by all three Republican candidates, who will face off in a June 26 primary. The winner of that race will run as the GOP candidate in November U.S. Senator Kirsten Gillibrand, in a bid to be the first Republican to win a senatorial contest in New York since 1992.
Long, a New York City lawyer who once clerked for Supreme Court Justice Clarence Thomas, described herself as a committed conservative who would bring a clear contrast in a race against Gillibrand, whom she called a "rubber-stamp" for President Barack Obama.
"I've got some news for the senator: she has maxed out her credit with New Yorkers and her Washington spending spree is about to end," said Long, adding that she would vote to repeal Obama's health care package, support tax cuts and would push for an overhaul of the country's energy policy.
Asked if she would remain in the race -- running on the conservative party's ballot line --even if she were to lose the Republican party primary, Long said she would.
"I promised the conservatives that I'm in the race till November, and I'm in the race till November," said Long. The two other Republican candidates are Representative Bob Turner, who last year won an upset victory to fill New York City's congressional seat left vacant when Anthony Weiner resigned in a sex scandal, and Nassau County Comptroller George Maragos. Both appeared the Conservatives' meeting on Monday. The nomination was somewhat unexpected since the Conservative Party chairman, Michael Long, has shared a decades-long friendship with Turner and was a key backer last year when Turner decided to run for congress.
Turner's upset win last September against a well-known Democrat in a district where Democrats outnumber Republicans three to one garnered national headlines and was seen as a referendum on Obama's economic and foreign policies.
Source: Reuters New Service: March 20, 2014

History of New York. Information that every New York Election Candidates for US Senate Should Know:
The first person to visit the area which is now known as New York City was Giovanni da Verrazano who discovered the area in 1524, when he sailed into the area and landed there. The discovery and first settlement of the area occurred in 1609 by Henry Hudson, who found the location while searching for a new route to Asia. The settlement was called New Amsterdam and established as a Dutch trading colony. The name of the settlement would eventually become New York in 1664, when the British took control of the colonies.
New York City became an important city during the Revolutionary War period and for a brief time period, it was Capital of the new United States after the colonies declared their independence. In the 1800's, with the opening of the Erie Canal providing passage to the Great Lakes, New York became one of the most important sea ports on the Atlantic Ocean, and became a center of trade. This lead to a substantial population growth into the largest city in the United States.
New York City also became a destination for immigrants coming in to the country to begin a new life. In the early 1900's millions of people came though Ellis Island seeking citizenship in the United States. A vast majority of these immigrants settled in New York City, which today is still one of the most diverse populations in the world.
Over time the city has grown to be a population center in the United States as well as a center for various activities. New York City is known for Broadway, the fabulous skyline, Central Park, Times Square, the Statue of Liberty, top sports venues and teams, and is one of the top destinations for tourists around the world. Below, please find some additional information about the history of New York City.

Arizona Senator Candidates 2014
Florida Senator Candidates 2014
Massachusetts Senator Candidates 2014
Christian Citizens One of America's Founding Principles