Presidential & State Primary: March 1, 2016
Election Day: November 8, 2016
Texas Gubernatorial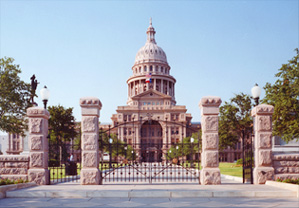 Texas Governor
The Texas Governor seat in play as tea party folks are upset with John Cornyn, a Republican establishment Governor who fails to take a stand.

If you notice that a Governor candidate's name is missing, please notify us to add it. Send email to clyde2 @live.com
Texas Governor
Greg Abbott (R)


Lieutenant Governor
Dan Patrick (R)
Texas TX Candidates for Congress 2016
District 1:
Louie Gohmert (R)
Anthony Culler (R)
Simon Winston (R)
Shirley McKellar (D)
Phil Gray (Libertarian)
District 2:
Ted Poe (R)
Pat Bryan (D)
Joshua Darr (Green)
Christopher Hill (Libertarian)
James Veasaw (Libertarian)
District 3:
Sam Johnson (R)
Dave Cornette (R)
John Slavens (R)
Keith Thurgood (R)
Adam Bell (D)
Michael Filak (D)
Paul Blair (Green)
Chris Claytor (Libertarian)
Scott Jameson (Libertarian)
District 4:
John Ratcliffe (R)
Lou Gigliotti (R)
Ray Hall (R)
Cody Wommack (Libertarian)
District 5:
Jeb Hensarling (R)
Ken Ashby (Libertarian)
District 6:
Joe Barton (R)
Collin Baker (R)
Steven Fowler (R)
Don Jaquess (D)
Jeffrey Roseman (D)
Ruby Woolridge (D)
Darrel Smith Jr. (Green)
District 7:
John Culberson (R)
Maria Espinoza (R)
James Lloyd (R)
James Cargas (D)
Ronald Kimmons (Reform/Write-In)
District 8:
Kevin Brady (R)
Andre Dean (R)
Craig McMichael (R)
Steve Toth (R)
District 9:
Al Green (D)
Jeff Martin (R)
George Reiter (Green)
Johnny Johnson (Libertarian)
District 10:
Michael McCaul (R)
Tawana Cadien (D)
Scot Gallaher (D)
Bill Kelsey (Libertarian)
District 11:
Mike Conaway (R)
Nicholas Landholt (Libertarian)
District 12:
Kay Granger (R)
Bill Bradshaw (D)
Ed Colliver (Libertarian)
District 13:
Mac Thornberry (R)
Rusty Tomlinson (Green)
Calvin DeWeese (Libertarian)
Jeff Ansel (Independent)
District 14:
Randy Weber (R)
Keith Casey (R)
Michael Cole (D)
District 15:
Dolly Elizondo (D)
Vicente Gonzalez (D)
Juan "Sonny" Palacios Jr. (D)
Johnny "JP" Partain (D)
Joel Quintanilla (D)
Ruben Ramirez (D)
Randy Sweeten (D)
Xavier Salinas (R)
Ruben Villarreal (R)
Tim Westley (R)
Vanessa Tijerina (Green)
Ross Lynn Leone (Libertarian)
District 16:
Beto O'Rourke (D)
Ben Mendoza (D)
Mary Gourdoux (Green)
Jaime Perez (Libertarian)
District 17:
Bill Flores (R)
Ralph Patterson (R)
Kaleb Sims (R)
Bill Matta (D)
Clark Patterson (Libertarian)
District 18:
Sheila Jackson Lee (D)
Lori Bartley (R)
Sharon Fisher (R)
Reggie Gonzales (R)
Ava Pate (R)
Thomas Kleven (Green)
District 19:
Jodey Arrington (R)
Jason Corley (R)
Greg Garrett (R)
John Key (R)
Donald May (R) - Tea Party Activist
Don Parrish (R)
Glen Robertson (R)
Michael Bob Starr (R)
DeRenda Warren (R)
Mark Lawson (Green)
Troy Bonar (Libertarian)
District 20:
Joaquin Castro (D)
Paul Pipkin (Green)
Jeffrey Blunt (Libertarian)
Mike Idrogo (Libertarian)
District 21:
Lamar Smith (R)
Matt McCall (R)
John Murphy (R)
Todd Phelps (R)
Tejas Vakil (D)
Tom Wakely (D)
Antonio Diaz (Green)
Mark Loewe (Libertarian)
District 22:
Pete Olson (R)
Mark Gibson (D)
A.R. Hassan (D)
District 23:
Will Hurd (R)
William Hart Peterson (R)
Pete Gallego (D)
Lee Keenen (D)
Ruben Corvalan (Libertarian)
District 24:
Kenny Marchant (R)
Jan McDowell (D)
Kevin McCormick (Green)
Mike Kolls (Libertarian)
Roland Rangel (Libertarian)
David Sparks (Libertarian)
District 25:
Roger Williams (R)
Kathi Thomas (D)
Loren Marc Schneiderman (Libertarian)
Ed Tidwell (Libertarian)
District 26:
Michael Burgess (R)
Micah Beebe (R)
Joel Krause (R)
Eric Mauck (D)
Mark Boler (Libertarian)
District 27:
Blake Farenthold (R)
Gregg Deeb (R)
Paul "Roy" Barrera (D)
Ray Madrigal (D)
Wayne Raasch (D)
District 28:
Henry Cuellar (D)
William Hayward (D)
Zeffen Hardin (R)
Michael Cary (Green)
District 29:
Gene Green (D)
Adrian Garcia (D)
Dominique Garcia (D)
Julio Garza (R)
Robert Schafranek (R)
James Galvan Partsch (Green)
N. Ruben Perez (Libertarian)
District 30:
Eddie Bernice Johnson (D)
Barbara Mallory Caraway (D)
Brandon Vance (D)
Charles Lingerfelt (R)
David Perkins (R)
Thom Prentice (Green)
Jarrett Woods (Libertarian)
District 31:
John Carter (R)
Mike Sweeney (R)
Mike Clark (D)
Scott Ballard (Libertarian)
District 32:
Pete Sessions (R)
Paul Brown (R)
Russ Ramsland (R) - Tea Party Activist
Cherie Myint Roughneen (R)
Gary Stuard (Green)
Ed Rankin (Libertarian)
District 33:
Marc Veasey (D)
Carlos Quintanilla (D)
Bruce Chadwick (R)
Monte Mark Mitchell (R)
Roy Carl Stanley (Green)
Jason Reeves (Libertarian)
District 34:
Filemon Vela (D)
Rey Gonzalez Jr. (R)
Willie Vaden (R)
District 35:
Lloyd Doggett (D)
Susan Narvaiz (R)
Scott Trimble (Green)
Rhett Smith (Libertarian)
District 36:
Brian Babin (R)
H.J. "Hal" Ridley Jr. (Green)
For list of Texas Conservative Candidates Texas Christian Candidate Voting Guide 2016
History of Texas. Information that every Texas Election Congressional Candidates for US Governor Should Know:
Texas is the second-largest U.S. state by both area and population, and the largest state in the contiguous United States. The name, based on the Caddo word "Tejas" meaning "friends" or "allies", was applied by the Spanish to the Caddo themselves and to the region of their settlement in East Texas. Located in the South Central United States, Texas is bordered by Mexico to the south, New Mexico to the west, Oklahoma to the north, Arkansas to the northeast, and Louisiana to the east. Texas has an area of 268,820 square miles, and a growing population of 25.1 million residents.

Houston is the largest city in Texas and the fourth-largest in the United States, while San Antonio is the second largest in the state and seventh largest in the United States. Dallas–Fort Worth and Greater Houston are the fourth and sixth largest United States metropolitan areas, respectively. Other major cities include El Paso and Austin—the state capital. Texas is nicknamed the Lone Star State to signify Texas as an independent republic and as a reminder of the state's struggle for independence from Mexico. The "Lone Star" can be found on the Texas State Flag and on the Texas State Seal today.

Arizona Senator Candidates 2016
Florida Senator Candidates 2016
Massachusetts Senator Candidates 2016
Christian Citizens One of America's Founding Principles