Presidential Primary: March 1, 2016
State Primary: August 4, 2016
Election Day: November 8, 2016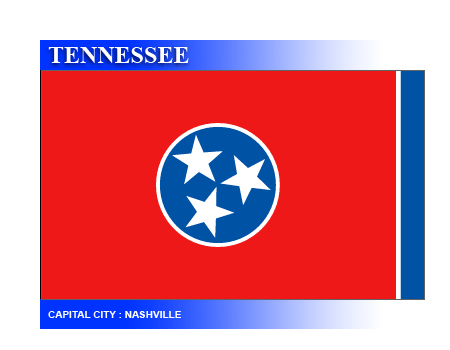 Tennessee Conservative Candidates
Recommended Tennessee Republican Candidates for US Senate
and Congress 2016 - State Legislature

Constitutional Amendments on Ballot in Tennessee
Amendment 1 - Vote YES Pro Life - A yes vote would allow lawmakers to put in place more abortion restrictions and regulations

Amendment 2 - Judiciary Empowers the governor to appoint judges subject to confirmation by the general assembly. If passed, this amendment would get rid of the current system of having a judicial committee select the nominees instead of the governor.

Amendment 3 - Vote YES Taxes. A YES vote is an anti-Tax vote. Prohibits the legislature from levying or permitting any tax upon payroll or earned personal income

Amendment 4 - Vote NO, If this passes, gambling will expand. Gambling Empowers the legislature to permit lotteries for events that benefit 501(c)(3) or 501(c)(19) organizations

Amendment 2 The measure, upon voter approval, would empower the governor to appoint judges to the supreme court or any other state appellate courts subject to confirmation by the general assembly. The appointed judge would serve an eight-year term. Thereafter, the judge could serve another term via a retention election by voters.

Senator Alexander is a LIBERAL on Obama Common Core. Lamar has aggressively supported the Internet Sales Tax. But is more conservative than the Democrat.

State Supreme Court Judges REPLACE on ALL THREE

Court of Appeals REPLACE ALL

Tennessee Congress Candidates - Tea Party Evaluation
District 1: Phil Roe (R)* - Incumbent Moderate, needs a conservative message.
Dan Hartley (R) - Nurse, Minister & GOP Activist - Endorsed
John Paul Rader (R)

District 2: John "Jimmy" Duncan Jr. (R) Incumbent - Conservative - Has done a good job. Endorsed
Jason Zachary (R) - Businessman

District 3: Chuck Fleischmann (R)* - Incumbent Moderate, needs a conservative message.
* Weston Wamp (R) - Conservative, Son of Ex-Congressman Zach Wamp - Tea Party Conservative, vote for him. Endorsed.

District 4 Scott DesJarlais (R)* - Incumbent - Endorsed - Tea Party Conservative
John Anderson (R) - Teacher, Writer, Ex-Volunteer Firefighter & Free Speech Activist
Yomi "Fapas" Faparusi (R) - Physician, Attorney & Researcher
Steve Lane (R) - Teacher & Conservative Activist
Dave Tate (R)
Jim Tracy (R) - State Sen., Insurance Agent,
Michael Warden (R) - Home Repair Contractor

District 5: Jim Cooper (D)* - Incumbent Liberal, needs a conservative message.
Chris Carter (R) - IT Consultant & Author
Ronnie Holden (R)
Bob Ries (R) - Businessman, Army Veteran
John "Big John" Smith IV (R) - Police Officer

District 6 - Diane Black (R)* - Incumbent Moderate, needs a conservative message.
Jerry Lowery (R) - High School Administrator, Teacher & Navy Veteran - Endorsed

District 7 - Marsha Blackburn (R)* - Incumbent Moderate, needs a conservative message.
Jacob Brimm (R) - Nurse & Afghan War Veteran - RECOMMENDED
Credo Amouzouvik (D) - Iraq War Veteran

District 8: Stephen Fincher (R)* - Incumbent Moderate, needs a conservative message.
Dana Matheny (R) - Christian Missionary - * RECOMMENDED
Ralph Mills III (R)


The August Primary is Thursday Aug 7th and early voting starts July 18th. Many people do not vote in primaries, but it is incredibly important to vote in these local races! Presidents don't set property values or sales tax rates or the many local regulations that cost so much and often chase people and businesses away. Also, most of these races will not be on the November ballot!
Shelby County Tennessee Conservative Recommendations

US Senate Joe Carr (has the strongest chance against Lamar) US Congress 8 Dana Matheny
State Supreme Court Judges REPLACE on ALL THREE
Court of Appeals Replace all

Tn State Senate 29 Jim Finney
State Executive Committeeman 32 Larry McKee
State Executive Committeewoman 31 Mary Chick Hill
State Executive Committeeman 31 Mitchell Morrison
State Executive Committeewoman 30 Sherrye Crawford
State Executive Committeeman 30 Sam Cooper
Assessor of Property Keith Alexander
County Trustee David Lenoir
County Register Tom Leatherwood
County Commission 6 David Shiffman
County Commission 8 Julie Ray
Circuit Court Judge Division 8 Charles MacDonald

COPY and Forward to your Friends
Fayette County Conservative Recommendations
…This state senate district is enormous, and that is where the challenge is. Hal Round's challenge is the Establishment which has poured money into Leigh Wilburn's campaign....over $40,000 this last quarter! Also, there is a third person in that race, Steve Hale. He just registered to vote in this district two days before filing his petition to run!
State Supreme Court Judges, REPLACE all three Appeals Court Judges, Replace all

Congress District 8: Stephen Fincher (R)* - Incumbent Moderate, needs a conservative message.
Dana Matheny (R) - Christian Missionary - * RECOMMENDED
State Representative, District 94- Hal Rounds
Republican State Executive Committeewoman, District 26- Kathryn Bryson
Fayette County Mayor: Eddie Pattat
Sheriff: Bobby Riles (incumbent) but lots of folks like Rick Jewell
Register of deeds: Judy Patton (worked in that office 30 years)
Public defender: Lyle Jones or Shana Johnson
General Sessions Judge: Matthew Armour or Jim Gallagher (lots of differences of opinion out here on this race)
District attorney: D J Norton
There are 19 county commissioners, but here are the recommendations in the districts that are contested:
County commission district 8: Homer Bunker AND County commission district 8: Terry Legget (there are two seats in 8)
County commission district 5: David Lee
County commission district 4: Reggie Howard
School board district 3: Tom FLEPS. This man is one of the best school board members we have ever had!
School board district 2: Robert Redditt
School board district 1: Bob Doll

Lincoln County
Scott Desjarlais for 4th Dist. US Congress
Gwen Shelton for Lincoln County Mayor
Vote YES on Lincoln County Charter.

US Senate Joe Carr (has the strongest chance against Lamar)
State Supreme Court Judges REPLACE on ALL THREE
Court of Appeals Replace all

MORE CANDIDATE INFORMATION - US SENATE AND CONGRESS - Tennessee Senate and Congress Candidates 2016

Vote For TN Tea Party Conservative Candidates for Congress August 7 2016
Elect those favored by most Tennessee Tea Party folks.
Our problem is the establishment Republicans who take weak stands.

Tennessee Congress Scorecard 2016

TN 2 Rep. John Duncan Jr. R 85%
TN 4 Rep. Scott DesJarlais R 81%
TN 3 Rep. Chuck Fleischmann R 74%
TN 7 Rep. Marsha Blackburn R 73%
TN 8 Rep. Stephen Fincher R 67%
TN 6 Rep. Diane Black R 65%
TN 1 Rep. Phil Roe R 64%
TN Sen. Lamar Alexander R 48%
TN Sen. Bob Corker R 48%
TN 5 Rep. Jim Cooper D 30%
TN 9 Rep. Steve Cohen D 13%

Anything below a 70% rating is in the moderate column, and needs to be sent a message.
Conservative Tennessee Tea Party Candidates Recommendations for Congress
Recommend that above moderate Republicans be replaced with tea party conservative candidates.
Conservative Ranking of Tennessee Members of Congress Pro Life From 2012
This is a 2012 ranking, and has not changed much. 70% percent and lower is considered to be a poor moderate voting record.
With the ranking reflecting the dominance of establishment moderates, and a lack of solid conservatives.

State - District - Name - Party - Score % 2012
TN 7 Rep. Marsha Blackburn R - 79%
TN 6 Rep. Diane Black R - 77%
TN 8 Rep. Stephen Fincher R - 74%
TN TN Sen. Bob Corker R - 74%
TN 3 Rep. Chuck Fleischmann R - 72%
TN 4 Rep. Scott DesJarlais R - 67%
TN 2 Rep. John Duncan Jr. R - 64%
TN 1 Rep. Phil Roe R - 60%
TN TN Sen. Lamar Alexander R - 52%
TN 5 Rep. Jim Cooper D - 27%
TN 9 Rep. Steve Cohen D - 16%

Rating is on a variety of issues, including spending, debt limits, pro life, and more. Rating from Heritage Foundation Action Scorecard - http://heritageactionscorecard.com/scorecard/index.html#tn#state#Tennessee
Tennessee Governor Candidates - Conservative 2016
Tennessee State Legislature House and Senate Conservative List
Recommendations 2016
Every Life Has Meaning...So Does Every Vote. Make Yours Count.

TN State Senate Conservative Candidates


*Denotes incumbent

And as demonstrated in other recent elections, the conservative vote gets split and the moderate Republican wins.
Early voting has begun in Tennessee - July 13 to July 28.

See below Tennessee voter registration and polling information.

PRIMARY ELECTIONS: AUGUST 7, 2016
Pro Life Christian Candidate Recommendations are from The Conservative Congress
Local Conservative Tenn Endorsements -Tennessee Legislature Pro Life Endorsements From Tennessee Right to Life
Who Are Christian Citizens of Tennessee Christian Citizens of Tennessee - Leading the the way on conservative values. Christian Citizens is best known for leading the charge on to defend the Ten Commandments and to stand for pro life.
Why we should say no to Government Run Health Care
The Democrat health care reform model will instead, limit patient choices, put government between the physician and patient, interfere with patient care decisions and burden Americans with huge long-term cost in the trillions of dollars!
Before we allow one-fifth of our economy to be nationalized, there must be careful consideration and open debate costs, less availability of care and services and the use of quality of life formulas to save money not lives.
Most Americans do not want a Big Brother, distant overseer making life and death decisions about their health. Government run health care may eventually be able to cover most people---but it will be with little care. Bureaucracy by its very nature is not a compassionate body.
Tennessee Historical Tradition - Follow our values in elections
First visited by the Spanish explorer Hernando de Soto in 1540, the Tennessee area would later be claimed by both France and England as a result of the 1670s and 1680s explorations of Jacques Marquette and Louis Joliet, Sieur de la Salle, and James Needham and Gabriel Arthur. Great Britain obtained the area after the French and Indian Wars in 1763.
During 1784;1787, the settlers formed the "state" of Franklin, which was disbanded when the region was allowed to send representatives to the North Carolina legislature. In 1790 Congress organized the territory south of the Ohio River, and Tennessee joined the Union in 1796.
Although Tennessee joined the Confederacy during the Civil War, there was much pro-Union sentiment in the state, which was the scene of extensive military action.
Tennessee Pro Life Candidates
Recommendations to Tennessee State House Legislature on Pro Life Issues:

Tennessee Pro Life Right to Life PAC 2016 Political Action Committee

Candidate Endorsements, Tenn State House of Representatives 2012
August, 2016 Primary Election

House District 1 Jon Lundberg R, House District 3 Kevin Parsons R, House District 6 Dale Ford R,
House District 7 Matthew Hill R, House District 8 Art Swann R, House District 9 Mike Harrison R, House District 10 Don Miller R House District 11 Jeremy Faison R

Every Life Has Meaning...So Does Every Vote. Make Yours Count for pro life.

House District 12 Richard Montgomery* R, House District 13 Gary Loe R, House District 14 Ryan Haynes* R, House District 16 Bill Dunn* R, House District 17 Roger Griffith R, House District 18 Steve Hall* R House District 19 Harry Brooks* R House District 21 Jimmy Matlock* R House District 22 Eric Watson* R House District 24 Kevin Brooks* R House District 25 Cameron Sexton* R House District 26 Gerald McCormick* R House District 27 Richard Floyd* R House District 30 Vince Dean* R

House District 31 Jim Cobb* R House District 33 John Ragan* R House District 34 Rick Womick* R House District 35 Dennis Roach* R House District 36 Dennis Powers* R House District 38 Kelly Keisling* R House District 40 Terri Lynn Weaver* R House District 41 John Mark Windle* D House District 42 Ryan Williams* R House District 43 Charles Curtiss* D House District 45 Debra Maggart* R House District 46 Mark Pody* R House District 47 Judd Matheny* R House District 48 Joe Carr* R House District 49 Mike Sparks* R House District 50 Dwight 'DJ' Farris R House District 53 Ben Claybaker R House District 56 Beth Harwell* R House District 57 Linda Elam* R House District 59 Robert Duvall R House District 60 Jim Gotto* R House District 61 Charles Sargent* R

House District 62 Pat Marsh* R House District 63 Glen Casada* R House District 64 Shelia Butt* R House District 66 Joshua Evans* R House District 68 Curtis Johnson* R House District 72 Steve McDaniel* R House District 73 Jimmy Eldridge* R House District 75 Tim Wirgau* R House District 76 Andy Holt* R House District 77 Bill Sanderson* R House District 79 Curtis Halford* R House District 81 Debra Moody R

House District 82 Johnny Edwards R House District 88 Harry Barber R House District 83 Mark White* R House District 89 Roger Kane R House District 92 Billy Spivey R House District 94 Barrett Rich* R House District 96 Steve McManus* R House District 97 Jim Coley* R House District 99 Ron Lollar* R

2012 Endorsements:
Senate District 4 Lt. Governor Ron Ramsey R
Senate District 6 Becky Duncan Massey R
Senate District 12 Ken Yager R
Senate District 14 Jim Tracy R
Senate District 22 Mark Green, MD R
Senate District 26 Dolores Gresham R
Senate District 28 Joey Hensley, MD R
Senate District 32 Woody Degan R
- Woody Degan is the clear conservative choice against incumbent
- Mark Norris, who is noted for being one of the most liberal Republicans in the TN Legislature, supporting the UN Agenda 21 agenda and other big government issues.

Christian Bumper Stickers Send The Message
Share your opinion, pride, or humor with oval custom bumper stickers. Vinyl bumper stickers stickers are easy to apply and created to withstand outdoor use. We print full color stickers so you can upload your own images or choose from our design clip art. Stick them to your car, truck, or any smooth surface. Cheap 50 bumper stickers makes it affordable to buy more custom stickers for your team, family, or friends! The state is now predominantly industrial; the majority of its population lives in urban areas. Among the most important products are chemicals, textiles, apparel, electrical machinery, furniture, and leather goods. Other lines include food processing, printer, lumber, primary metals, and metal products.
The state ranks high in the production of marble, Christian t-shirts, zinc, pyrite, and ball clay. Over 80% of the counties in Tennessee have approved a Ten Commandments resolution. Identify with Jesus with Christian t-shirt.
Arizona Senator Candidates 2016
Florida Senator Candidates 2016
Massachusetts Senator Candidates 2016
Campaign Hint and Tips: Target Women Voters

Many political campaigns have a limited budget and are looking for the most cost effective way to get their name and theme to people. Of special interest are methods that leve a lasting positive impression. One very effective method that works very well with women voters are Patriotic and Political Campaign Emery Boards. Emery boards are very useful, many hair studios and salons will pass them out and every time they are used it leaves a positive impression. They are low cost and can even be included in mailings.
Christian Citizens