Republican and Democrat Candidates for Indiana Senate Primary Election
If you notice that a candidate's name is missing, please notify us to add it. Send email to clyde2 @live.com
Indiana Senator
Dan Coats (R) - Next Election is in 2016.


Indiana Candidates for Congress 2014
IN Candidates for Congress May 6 Primary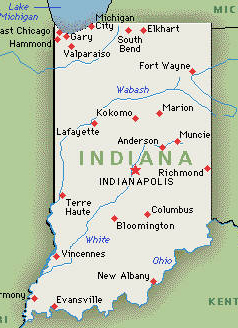 Indiana Congressional Candidates
District 1:
Peter Visclosky (D)
Mark Leyva (R) 
Donna Dunn (Libertarian)
James Johnson Jr. (Write-in) 

District 2:
Jackie Walorski (R)
Joe Bock (D)
Jeff Petermann (Libertarian)
District 3:
Marlin Stutzman (R)
Justin Kuhnle (D)
Scott Wise (Libertarian)
District 4:
Todd Rokita (R)
John Dale (D)
District 5:
Susan Brooks (R)
Shawn Denney (D)
John Krom (Libertarian)
District 6:
Luke Messer (R)
Susan Hall Heitzman (D)
Eric Miller (Libertarian)
District 7:
André Carson (D)
Catherine "Cat" Ping (R)
Chris Mayo (Libertarian) 

District 8:
Larry Bucshon (R)
Andrew McNeil (R) - Tea Party Activist 
Tom Spangler (D)
District 9:
Todd Young (R)
Bill Bailey (D)
Mike Frey (Libertarian)
History of Indiana. Information that every Indiana Election Candidates for US Senate Should Know:
Indiana's history is characterized by several periods: the Native American period; European exploration from 1542 to 1769; the Spanish colonial period, 1769 to 1821; the Mexican period, 1821 to 1848; and statehood in the United States which continues to the present day.
Native Americans have lived in the area which is now Indiana for 13,000 to 15,000 years. Numerous tribes and bands inhabited the area. Estimates of the Native American population during the pre-European period range from 100,000 to 700,000, with a median estimate of around 300,000.
Indiana Governor Candidates Election Race
Indiana Senator Candidates 2014

Arizona Senator Candidates 2014
Florida Senator Candidates 2014
Massachusetts Senator Candidates 2014
Christian Citizens
Christian Citizens - America's Christian Heritage